STREET-BASED OUTREACH
We believe that it is unrealistic to expect a person who is hungry, sleep-deprived, and frightened to readily follow through on decisions that result in lasting behavior changes. For a hard-to-reach and wary group of youth, who are unlikely to seek out treatment or care from a human services agency on their own, consistent street outreach is the key to initially engaging trust. For a minimum of three hours each day, 3 members of our outreach team walk along Haight Street and into neighboring parks, distributing snacks, safer sex supplies, and hygiene kits. Counselors also distribute educational materials on healthier lifestyle choices and behaviors. In total, counselors are able to make over 12,000 contacts per year via street outreach.
It is rare for street-based young people to accept guidance from a community outsider, but HYA's Outreach Counselors are able to overcome this barrier because many are formerly homeless young people themselves. Approximately 85 percent of our participants use HYA's services at least once a week, having established bonds of trust with Outreach Counselors that increase their receptivity to several options in our program.
ONE-ON-ONE COUNSELING
Once they make contact during outreach, HYA outreach counselors are able to meet participants for one-on-one counseling sessions on the street or in a local restaurant or cafe. Counseling allows both staff and youth time to identify high-risk behaviors, to assess readiness to change these behaviors, and to talk privately about options. During these sessions, staff provide non-judgmental emotional and practical support, demonstrating positive role modeling in settings that are removed from the pressures of the street. Once a counselor has developed this relationship with a participant, youth are much more open to referrals for a broad range of immediate and long term needs. Staff often aid youth in obtaining a legal ID, General Assistance and government benefits, shelter and transitional housing, placement in a substance abuse treatment program, and in re-establishing contact with family and friends.
THE HIVE (PART-TIME DROP-BY LOCATION)
The Hive is our "Drop-by" Center located at 1572 Haight Street, between Ashbury and Clayton. Open 3pm to 5pm Tuesdays and Thursdays, the Hive offers case management with HYA Outreach Counselors, who are available on-site to provide referrals and other resources, as well as to distribute snacks, hygiene supplies, animal-care products, and to offer a safe place to hang out and get off the streets. Licensed therapists also are available free-of-charge for drop-in appointments. The Hive is a youth-focused space and designed for folks 29 years old and under only!
GROUPS AND WORKSHOPS
HYA's series of educational and creative workshops create an ideal opportunity for youth to obtain practical skills, share information with their peers, and enhance their confidence. HYA weekly workshops cover a range of topics on both mental and physical health.
Health Group
At HYA's weekly Game Group, 10-25 young people get to relax, eat pizza and other snacks, share conversation, build community all while playing board games or making art. It is a time to just be kids!
Participant Planning Council
Every other month in lieu of Game or Art Group HYA staff and participants get to discuss HYA's scope of work. This time allows the youth we work with to give feedback on our existing services and suggestions for new program ideas. We deeply respect the input directly from the youth and do our best to shape our program around their needs.
"It's amazing to me that my job is to do harm-reduction trainings for kids at risk. I wish I'd known information like this when I was on the street."

Khristine Jones
HYA Outreach Counselor
"I want to mentor young people who are talented, and make it possible for them to sell their art instead of panhandling or selling drugs."

Spencer
HYA participant and current volunteer
MENTAL HEALTH SERVICES
Having been over-medicated, misdiagnosed, or institutionalized in the past, the youth we serve are often reluctant to trust mental health providers. For this reason, consistency, flexibility, and cultural appropriateness are essential to engaging youth. Psychotherapeutic services are client driven and may vary in terms of focus and setting. Encounters may be crisis-oriented, insight-oriented, solution-focused, supportive, or based on symptom management or behavioral change. Youth may access a single therapy session on an on-demand basis, or may engage in regular, ongoing psychotherapy over months or even years. A private office is available at The Hive (our drop-by location) to ensure confidentiality; however, based on individual preference, sessions also may take place on the sidewalk, in the park, or at a cafe. Our mental health services are provided with internal providers and through a collaboration with the Harm Reduction Therapy Center.
"A lot of other agencies have many, many filters to get to the point where you feel like they are able to be with you and to listen to you. The fact that HYA lets the kids take it at their own pace helps them heal."

Jen Plummer
HYA therapist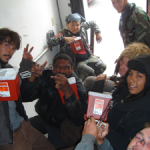 SYRINGE ACCESS AND DISPOSAL
Four nights a week, HYA operates the city's only culturally specific syringe access and disposal program for youth and women. Three of these sites specifically target the young injectors in our neighborhood. This designated time allows participants to not only obtain clean, sterile supplies, but to engage with staff and volunteers in discussions about their use and options for detox or drug treatment. Medical care is also provided at all of these sites. Our fourth exchange site, located in the Mission District of San Francisco, is open to female identified people only. For more information on syringe access and disposal, see our Needle Exchange FAQ.
"The needle exchange was a place where I got a lot of education regarding safer injection and safer practices and Hep C and HIV and all that stuff, and the medical doctors were basically the only doctors I saw …it was a place that was totally nonjudgmental so it was OK to go there. They helped me get into rehab a couple years ago, they helped me get hooked up with a therapist, they did a lot."

Yeah Yeah
former HYA participant and current HYA Outreach Counselor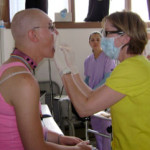 MEDICAL SERVICES
Three evenings per week, licensed medical providers volunteer during our syringe exchange, providing basic medical services free-of-charge. In addition to free on-site medical care, these professionals also are able to provide referrals to methadone and suboxone programs.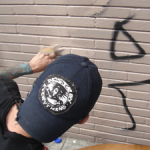 COMMUNITY CLEAN-UPS
Every month (since 2005) the Clean-Up Crew, which is composed of 10-20 HYA staff and program participants, walk the streets of Haight Ashbury, the east end of Golden Gate and Panhandle Park and surrounding neighborhoods properly disposing of discarded syringes. Before every session, the Crew is thoroughly trained on safety protocol, including how to properly dispose of syringes and respond to accidental needle sticks. Participants also distribute awareness materials to possible users of syringes and other community residents that describe the proper methods of disposal for syringes. Therefore, while beautifying the community by properly discarding syringes, HYA is also preventing future improper disposal of syringes.
FORMER FULL-TIME DROP-IN CENTER
In December 2013 after 12 years in the same location we lost our lease. As we have been unable to secure a new space we are working entirely on the streets. HYA's drop-in center was a refuge from the pressures of street culture and was at the core of our services. For many youth, it was the only place they could relax, eat, gather, watch TV, get their mail, and use email and phone without being stigmatized, judged, or threatened by violence and instability on the streets. Many described our space as their second home. Staffed by Outreach Counselors and volunteers 4 hours per day, 5 days a week, our drop-in provided basic necessities such as food, bathroom and shower facilities, hygiene and safer-sex supplies, phones and internet, and individual case management. We are still actively working at securing a new location.