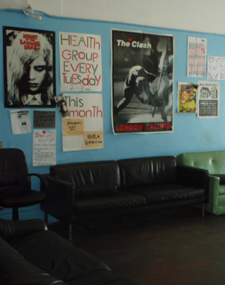 On behalf of all of us at Homeless Youth Alliance, we are grateful for the investment you have made in our work. Your support and commitment has enabled us to sustain, strengthen, and grow our services, helping us reach greater numbers of marginalized youth and offer them a comprehensive, integrated range of options for getting healthy and off the streets. We're proud of the milestones we've attained with your help. Over the past two years, the number of youth who used our mental health services has grown by 40%. We've built new collaborative and referral relationships with youth-only housing providers and clinics. Our alliances in City Hall and in the community are stronger than ever. We've been experiencing auspicious growth that has led to relationships with new funders and enhancements to our program. We thank you for your role in facilitating this growth.
Even with the positive developments we've experienced in the recent past, however, HYA is not immune to the effect of the escalating gentrification that has transformed San Francisco. This fall, we were informed that our lease for the space we've occupied for the past 12 years (the last 7 as HYA and previous 5 in our earlier formation as Haight Ashbury Youth Outreach Team) will not be renewed beyond the New Year. Our last day of services will be Christmas day. The building will be renovated, and reopened with apartments on the upper floors. The ground floor storefront, where HYA's drop-in center and needle exchange currently operate, will be turned into a restaurant or retail space. Our property owners have expressed regret over the situation, telling us we've been ideal tenants over the years and they've been happy to have leased this space, at below-market rates, to a worthy community program for so long. However, given the income that can now be made from repurposing the space, they've decided to go in a different direction and not even give us the option to pay more.
Sadly, our situation is not an anomaly. In the past couple years, many of the city's nonprofits have been displaced by huge rent increases or early lease terminations. But HYA is nothing if not resilient. Our history has made us, out of necessity, creative and resourceful in the face of challenges.
Currently we are strategizing with our Board of Directors and our supporters, exploring several options for our future in the Upper Haight neighborhood. We're experiencing a flood of support from our donors, volunteers, fellow service providers, community organizations, and our advocates in City Hall; and we are confident in our ability to eventually secure a new location.
In the immediate aftermath of our displacement, we will continue providing the same services we always have, on a mobile outreach basis. We are in a financially stable position, we have the support of our community and extensive background and experience doing grassroots work, and we are secure in our ability to serve just as many homeless youth as ever during this transition period. And we look forward to continuing to work with you, our supporters, as we do so.
HYA originally began as a grassroots, outreach-only program: on the front lines, reaching homeless youth in Golden Gate Park, on the streets, and wherever they could be found, building strong, ongoing relationships based on support, respect, and practical assistance. As a mobile outreach unit, we can still provide food, hygiene kits and safer sex supplies, harm reduction trainings, one-on-one counseling and case management, and therapy and psychiatric care—either out in the open, or by making use of tents, a van, or a trailer. We can still connect kids with housing, benefits, medical care, drug treatment, and other life-saving resources. We can still visit and advocate for them in the hospital or if they're incarcerated. We can still mediate between kids and their families and lend moral support and counsel in crises and emergencies. We can still give kids the tools, education, and incentive to make healthier choices, keep themselves safe, and ultimately get off the streets.
Our program serves about 5,000 youth annually. Every day 45 – 150 kids come through our doors. We've helped a lot of young people permanently transition off the streets. We've even hired several of our former participants as Outreach Counselors. Many of our youth have gone on to college and to have careers and stable families of their own. We've been making such success stories possible since before our program had a roof over its head. And we're going to continue to do so.
Although this situation poses initial challenges, we choose to view it as an opportunity. An intensified focus on street-level work will enable us to reach more of the hardest-to-engage homeless kids, those in remote areas of the Park, who wouldn't otherwise come in contact with our team or make their way to our space. It will tilt the balance toward "on-demand" services—therapy and case management that can be provided wherever the youth are, making services even more accessible to kids who have difficulty with structure or continuity. And ultimately, it will bring HYA closer to our long-term dream and goal, the cornerstone of our existing strategic plan: a better building with kitchen facilities, showers, laundry, a full medical clinic, and enough office and storage space to accommodate larger Outreach and Mental Health Teams.
As we told our participants when we broke the news of the termination of our lease, we're not going anywhere. We are deeply dedicated to the homeless youth who indentify the Haight as their home. We'll be there for them, on the streets and in the parks—and hopefully, one day, at a new permanent home in the Haight. And we look forward to sustaining our relationship with you—our supporters and partners in this essential work—as this new chapter begins.
In true HYA fashion we wanted to inform you of this change in our services and be completely transparent about our current situation and the intention of our continued work. We will keep you updated as things unfold. Again, thank you for your ongoing support and for continuously showing the youth that you care it is something that should be demonstrated to them more often. Donate now.
In solidarity,
Mary Howe